Stand-Up Paddleboarding on Cape Cod
Paddleboarding, or Standup Paddleboarding  (SUP), according to Wikipedia, is Hawaiian in origin. "(Hoe he'e nalu in the Hawaiian language) is a sport originating in Hawaii as an off-shoot of surfing. It enables surfers to paddle farther into the ocean than is typical or to paddle standing up as a sport unto itself. A 2013 report called it the outdoor sporting activity with the most first-time participants of any in the United States that year. Paddlers race on lakes, large rivers and canals, ride breaking waves, and glide over long distances along sea coasts, often using tail winds to aid the trip."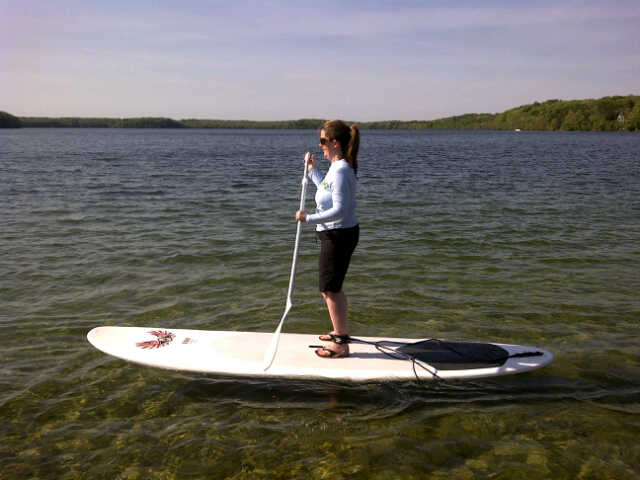 On Cape Cod Paddleboarding is a prime summertime activity and the amount of rental shops that provide the equipment attests that the sport not only a fun way to spend a sunny afternoon but it is here to stay. Since it is relatively simple to master, the only requirement besides the board and paddle seems to be the water. Cape Cod, with over 559 miles of shoreline, seems like the ideal place to learn, master or simply enjoy this summertime water activity. But if you are like most people, you would like to first dip your paddle in shallow water to learn. And once learned, the next thing would be to find interesting and safe places to go.  The island of Monomoscoy, accessed by the picturesque causeway  called Monomoscoy Road, is a short trip off the bustling Rt 28 in Mashpee, MA. As soon as you turn down this street, you enter the tranquil world of peace and serenity; the perfect spot to paddleboard.
Shallow waters and calm inlets full of the peaceful aquatic life beloved by Cape Codders and visitors alike, this little community is a treasure. The homes along the route are a blend of beach houses, fishing shacks, family compounds and ultra modern homes with all of the technological conveniences. What they all share is the view, the peace and the water that surrounds them.
We at O'Neill Real Estate would love to help you find just the right fusion of peace, sunshine, water and sense of home on Cape Cod as you roam the gentle waters of the lovely area of Monomoscoy. We may even have the perfect spot for you to call HOME.